This recipe is created by My Heavenly Recipes so check their website for more details!
Oreo Cheesecake Fudge is a delicious twist on a traditional recipe! If you are looking for new ways to mix up the same old dessert recipes, this is the way to do it. This Oreo Cheesecake Fudge is going to be a hit!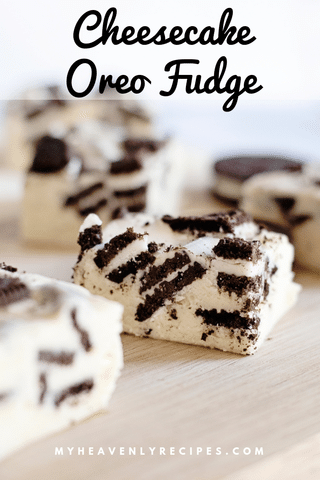 Does this Oreo Cheesecake Fudge sound like something that your crew will love? If your family and friends are used to enjoying your typical fudge recipes, you are going to knock their socks off with this one. I love it because not only will fudge lovers enjoy this treat but so will those who like to treat themselves to Oreo cookies!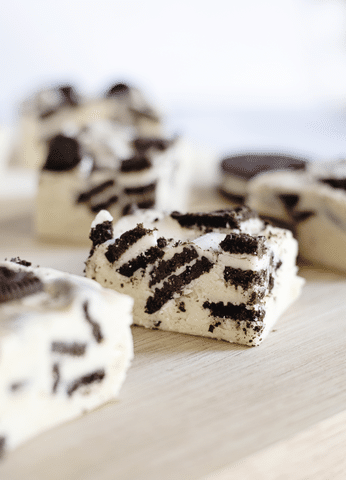 Not only will this Oreo Cheesecake Fudge make a delicious dessert for the holiday dessert table, but it will also make a great gift! IFood gifts are always appreciated, as are homemade gifts, why not combine the two? You can prepare the oreo fudge and then present it to your gift recipient in a cute bag or box and voila! Your gift giving is done!
Oreo Cheesecake Fudge is a tasty spin on a classic dessert. Don't get me wrong, we all love classic fudge, but it certainly doesn't hurt to add a little bit of WOW to the classics either.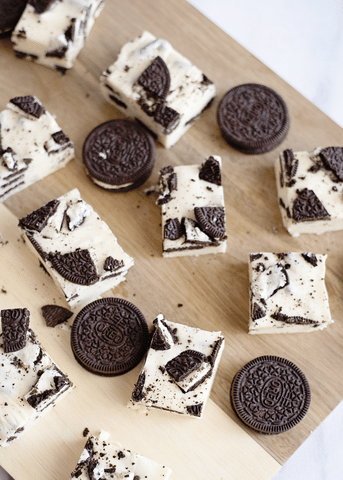 WHY IT WORKS
Fudge makes a great treat and dessert for special occasions, an indulgent evening or as a perfect gift.
It satisfies cheesecake lovers and fudge lovers!
It's super easy to make and requires relatively few ingredients.
RECIPE VARIATIONS
Top with as many or as few Oreo cookies as you wish.
Use other crushed candy toppings.
COOK'S TIPS
Mix gently as to not disrupt the color of the cheesecake.
To prevent messes use parchment paper as a lining.
WHAT YOU'LL NEED TO MAKE Oreo Cheesecake Fudge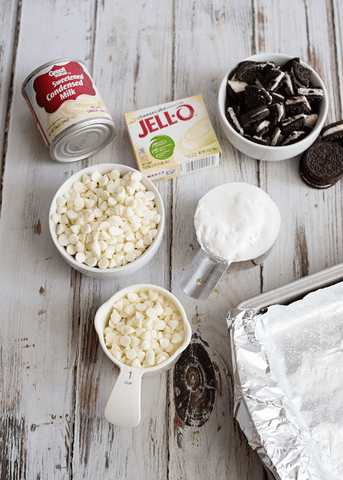 2 ½ cups white chocolate chips
14 oz sweetened condensed milk
3.4 oz box instant cheesecake pudding mix
1 cup marshmallow fluff
10-15 crushed Oreos for the fudge (a few extra for topping)
HOW TO MAKE Oreo Cheesecake Fudge


Prepare a 9 inch square pan with non-stick spray. Line with parchment paper or foil for easy lift out.
Using a saucepan on medium heat, stir together the white chocolate chips and sweetened condensed milk until all melted.
Then, add in the pudding mix and marshmallow fluff and mix until well combined.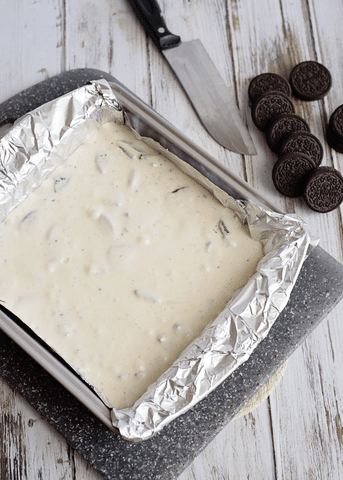 Remove from the heat and toss in your crushed Oreos, gently combine everything together.
Pour the fudge into your prepared pan and top with the extra Oreos for a pretty presentation. Refrigerate for about 3 hours. For a super clean cut, place in the freezer for a quick 5-10 minutes. Store in the fridge.