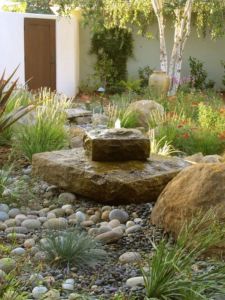 Amazingly beautiful Mediterranean garden!
What a combo: trees, ornamental grasses, wild flowers, climbing vines, rocks of different shapes and sizes, gravel…A heavenly beautiful Mediterranean-style space. A burbling natural rock garden fountain definitely looks amazing and adds tons of charm and personality. In addition, this delightful water feature attracts butterflies and birds to the space. A rock garden is a wondrous combination of plants, trees, scrubs, but we usually put the spotlight on the rocks in uneven shapes.
It is an intriguing space where we use natural resources to build something that fascinates us.
Our first inspiration comes from the golden colors, the evergreen plants.
Photo: Credit