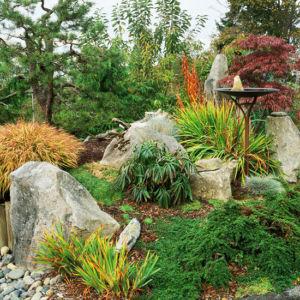 For a year-round rock garden, incorporate evergreens.
The combo of evergreens, shrubs, and perennials is a perfect choice for creating a distinctive landscape with greenery and blooming flowers. [pslider]To achieve this look, when planning your rock garden, plant some evergreen shrubs among large rock boulders.  In this awesome garden, fall foliage adds dramatic touches of gold. A tall planter topped with a piece of rock is the focal point of the space.
A rock garden is a wondrous combination of plants, trees, scrubs, but we usually put the spotlight on the rocks in uneven shapes.
It is an intriguing space where we use natural resources to build something that fascinates us.
Our first inspiration comes from the golden colors, the evergreen plants.
Photo: Credit