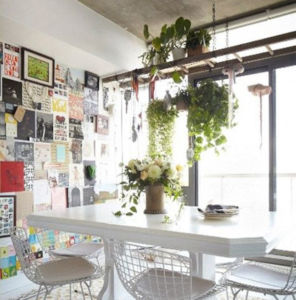 Truly charming way to hang plants…
With some creativity, you can come up with endless vintage ladder storage options.
Look at this dining space! Plenty of pots are positioned on a horizontally suspended  ladder. You can use an old wooden ladder, repaint it and fix it in horizontal position.
So creative! An accent wall, an area rug, and an elegant bouquet of roses add extra color and visual interest. Even though it looks like a scandinavian design it's still cozy and inviting.
Adding some vintage style to the modern design is a new way of arranging and decorating.
You can match the color of the ladder with the one on the ceiling or on the floor, just to create an accent.
Don't be afraid to experiment with colors and textures. Best solutions will come with testing and trying some new things.
Definitely a space with personality!
Photo: Credit