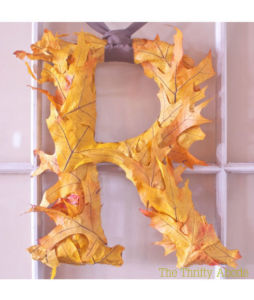 A Leaf of Faith
For a very long time, we have established certain habits and our unique approaches towards esthetics that add a decorative touch to our homes.
Look at this wreath, for example. Isn't it wonderful? Take the free gifts of nature and make them into something beautiful.
It can be your favorite letter of the alphabet, a wonderful sign or whatever you'd like to see on your front porch.
The yellow autumn leaves can create a perfect installation on their own. They decorate as we celebrate life once again.
All you need is one simple gorgeous detail that speaks of the fall and you are ready to go.
Give your monogram a fall makeover by covering it in leaves. What a great fall front door idea!
Photo: Tutorial