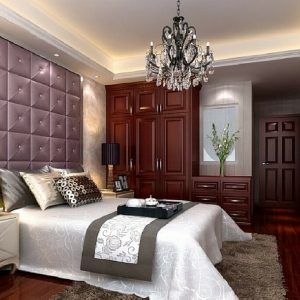 Pale Purple Dreams
Right before that second when you say "Good Night" and "Good Morning" you wish that your eyes remember something magnificent.
I get that. We love beautiful designs, lovely architecture… and precious moments.
The first bedroom interior I have for you has a shade of purple on the back wall, a wide comfortable bed and a stylish white & gray bedding.
Simple, brown wardrobe in the back that would contain stylish clothing designs.
A luxurious chandelier is hanging from the ceiling, thus making the view unforgettable.
This is the power of a beautifully decorated bedroom – you feel gracious, lovely and beautiful, too.
Photo: Credit