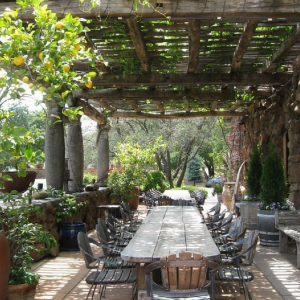 Special By Design
Pergola designs are these freestanding or attached structures that make an outside area a masterpiece of relaxation and joy.
Watch out for these lovely installations in the yard and see how they can fit perfectly into your home.
Here's a hint – a house needs a gazebo or a pergola, a cat or a dog, or all of the above!
Our first view leads us inside a home where a nice lemon tree peeks on the left, while there is big pergola with plenty of seats and space for creativity.
It would be so lovely to feel the summer wind on your face in a place like this.
Photo: Credit