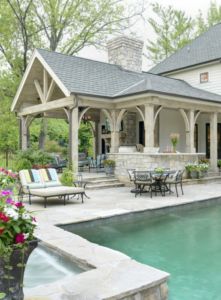 Heavenly beautiful space!
Exposed stone, beautifully embellished beams, an outdoor living room with a transition to a swimming pool…This covered patio is simply gorgeous!
Metal furniture offers functionality, style, and visual interest.  Potted flowers add color, scent, and freshness. Definitely an exquisite space to relax and entertain and family and friends! This house seems showered in baby blue. The pink flowers and the spacious atmosphere make this front patio a gorgeous example front door decoration.
I don't mind having a drink over there, do you? We have this inviting, cozy space before our eyes, and it is not about the vanity at all!
Photo: Credit