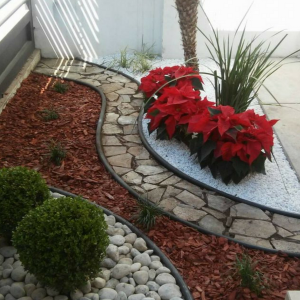 Poinsettia Dreams
We often feel how much simplicity is needed nowadays.
Most of the time, it's when we lose it, when we are overwhelmed or burdened with thoughts that need clearing.Let me clear up the skies for us today with a small garden can be located almost anywhere.Seasonal flowers are easy to find, affordable and special in their own way.
Look at this darling little garden – it has everything you can possibly need for a sweet outdoor experience. Stones, a little path to walk on, poinsettias and a dreamy look! It takes so little space that you can put it everywhere in your home. The location needs to be well lit and also with easy access so that you can easily pour the flower with water. There is little maintenance needed to keep these small garden alive. This one is no bigger than two square meters , but can change the appearance of every room a lot.
Make the very best of today – we still have twelve amazing little gardens to show you.
Photo: Credit