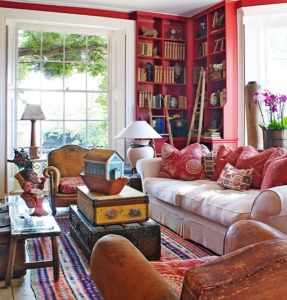 Artistic Rooms
Now, what do we have here?
A grand, lavishly decorated room that can open up all of the senses, and it's the right time to discover its secrets detail by detail.
There is the colorful rug, the fragrant violet orchids on the window and the gentle sunlight coming in.
This is truly a wonderful home for a writer or for anyone that loves the arts. A number of themes mix and match to create this space.
We can notice also that the accessories or the details are the ones that play a special role. The vintage suitcase, the tiny house – these are the wonder markers of the room.
Warm, foliage-inspired hues make this space feel like the epitome of fall. Floor-to-ceiling paneled windows provide adequate natural light.
A comfortable seating arrangement complemented by a bunch of throw pillows, vintage suitcases repurposed  as a coffee table, a gorgeous area rug and table lamps, eye-grabbing accessories…Delightful! Orchids potted in a unique planter add extra visual interest and freshness.
Photo: Credit