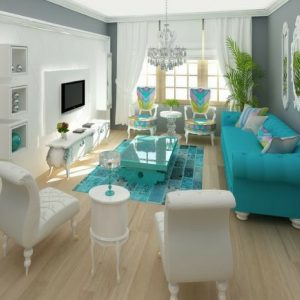 Supreme Style
This living room is fine example of supreme and stylish design. It is decorated in such way that you feel as if you live in the middle of the ocean depths.
The blue adds a character to the room and defines it. Light enters freely through the curtains and makes everything look even better.
The decoration is lavish and modern, and yet the designer didn't go overboard. The luxurious feeling is still here, the gray tones compliment it without really taming it that much.
Two mirrors, a lovely chandelier and lots of room for everyone. This is a divine choice for those who love the shades of blue.
Photo: Credit