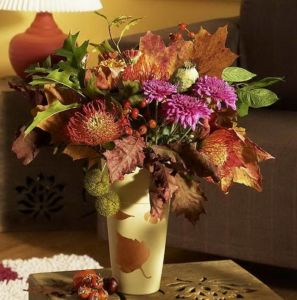 Delightfulness Ahead
No second-guessing!
Fall is knocking on our door, calling for divine decorations that highlight the all-time beauty of the season.
There are plenty of dry flowers around this season – you can go look for them in the mountains, forests, your own backyard garden or even some place far away.
Why don't you spruce up your living room by adding a simple vase of colorful flowers?
This is an impressive little bouquet that proves decoration can be done effectively, easily and flawlessly at the same time. Such an inexpensive solution…
Nature-friendly tip: don't cut fresh flowers; use those that are already dry and fallen on the ground.
Bouquets are a simple, easy, and budget-friendly yet gorgeous way to add fall touches to your living space. Look at this delightful accent décor piece! Flowers and leaves in bright colors arranged in a simple vase can add freshness, interest, and personality to any space.
Photo: Credit