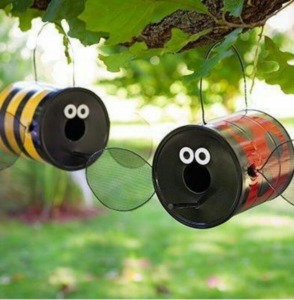 Fabulous!
Looking for an easy DIY project to upcycle tin cans? What about this one?[pslider] Old paint cans transformed into decorative bird feeders! What a creative way to add functionality, fun, appeal, and interest to your garden. Plus, apart from decorating your outdoors, it's an option to bring in a bit of nature into your yard. Make your garden the most beautiful in the neighborhood. You can transform it in a matter of minutes.
These cans can be easily attached to tree branches or fence. You can create butterflies , bees or other cute bugs and birds. You  can also use any size of cans that you have – from soda, beer or foods. It's up to you to create them. Use your creativity and fantasy to make the most beautiful pieces. Even if you are not too handy you can easily create this project and also the following projects in this slideshow of great DIY garden art projects.
Let's get to the next one. Click on Next button to see it.
Instructions: Here