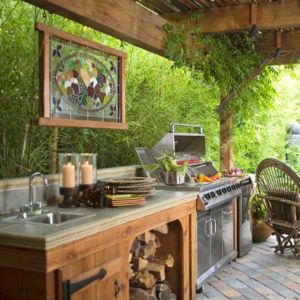 Truly awesome!
Stainless steel appliances, firewood storage, a seating arrangement…This covered outdoor barbeque area is all about functionality and appeal. Bamboo trees offer privacy. Hanging greenery softens the look of the wood roof and adds visual interest. A framed piece of stained glass adds personality to the space. Candles help create a romantic setting. A delightful space!
Meat-eaters, vegetarians, vegans and food-eaters of cooked food around the world… what do we all have in common? We all love barbeques! Yes, we do.
Whether you place a ton of vegetables or chicken skewers on top – it's up to you! My idea for today is to show you thirteen amazing outdoor barbeques. Just take a look at this!
Photo: Credit