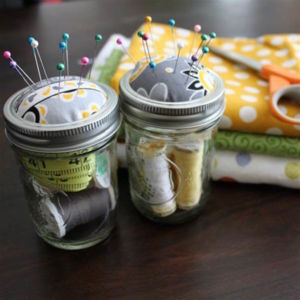 So cute!
Keep your sewing supplies inside a Mason jar equipped with a DIY pincushion lid. This sewing kit definitely looks fabulous! So creative and neat packing idea! A gorgeous fabric choice for the pincushions.
These lovely colors add so much freshness and visual interest. Furthermore, the sewing kit makes an awesome gift idea!
I am so excited and enthusiastic because we are about to discover twelve amazing, fun, creative ideas. The guest stars of this article are mason jars!
Yapp, we love them! Glass is one of the highest quality storage options and as we can see, it is not always food that we store inside.
Your sewing kits will be much better suited for these mason jars!
Instructions: Here