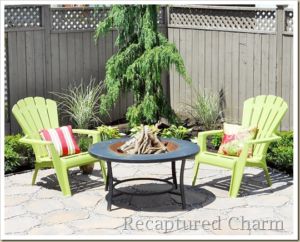 Dreamers around the Patio
Lighting a big fire in the summer is one of the wonderful ways to learn to relax and quiet the mind in the evening.
Not only does the fire warm our bodies, it translates beautifully in our state of mind.
This ritual brings you to a special place of peace, warmth, and tranquility.
Naturally, we associate fire with time spent together – with friends, family and the ones we trust.
You can gather around, tell stories, words of encouragement, set new goals or dream together.
Fire pits remind us there is plenty in everyday life to be thankful for.
After a little adjusting here and there, and a little more planting… and you have your gorgeous fire pit patio.
Photo: Instructions