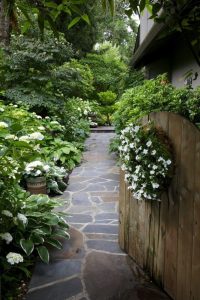 1. Wonderland Walkway
Step on a path that leads to something beautiful. With each step you take, take a moment to go deep inside and realize that you are the one receiving the wonders of this world.[pslider]
Filter your dreams, breathe in the scent of the flowers and realize you are truly connected. All paths in life are one path as a matter of fact. The place, where poetry lives is your soul. The spheres of everything gentle and pure are what make the home a home! Welcome to a wonderful garden, a vision of the purest, most truthful aspects of you.
Let's start with some tips:
Remember the importance of negative space, even a tiny courtyard or lawn can provide balance to a small garden.
Include built-in seating in a corner to keep your garden from feeling crowded.
Use a living wall to add lushness where ground space is limited.
Step back and look at your yard with fresh eyes, then simplify and tidy.
Even if your outdoor space seems overwhelming, pick just one thing that you most want to change.
Think big. Ample pathways and gathering spaces are inviting, and large features are engaging in any size space.
You can maximize the livability of a small yard by taking advantage of changes in terrain to segment the space into different living areas. Dividing a garden, even when small, often has the paradoxical effect of making it seem larger.
In small gardens where space is too limited for major focal points, compose a series of mini views within the garden itself, offering interest in every direction while using plants to provide a framework.
Photo: Credit