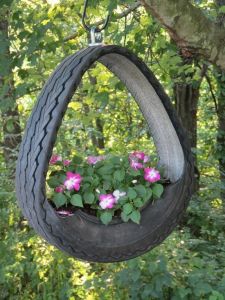 DIY Madness
It's time to raise the level and reuse objects that you normally would through away. [pslider]Your old car tires can become amazing DIY planters. You can hang them on a tree, in your backyard or even balcony if you wish.
These are full of flowers! Pick varieties that are easy to grow, water them regularly and you will have the best setting for some lovely photos. It's so rewarding to do something alone, no matter how easy or hard it is to achieve. Use your imagination and you will see that in the end, you will have outdone yourself! This example is a little bit harder to DIY because you have to actually cut some of the tire, which could be tricky if you don't have the proper tools.
What tire is suitable for this project? Well, any tire that is not too large so that you can hang it and it won't break the branch. It should be large enough to contain some soil and some beautiful flowers. Small flowers are the best choice, because you can put as many as the size of the tire allows. Don't forget to attach the tire with a strong hook , because it could be dangerous if it falls from the tree. Hang it low to avoid any accident.
Photo: Credit